Management
The GRD Institute of Management, a conglomerate of non-stereo typical and neo-radical minds is constituted with flair for creativity and innovation in order to engage consistently into introspections for improvement and opening up for new challenges.The Institution offers MBA(Full Time & Part Time), M.Phil (Full Time & Part Time) and Ph.D (Full Time & Part Time).
The MBA program at GRDIM commenced in the year 1992. The Institution is AICTE approved and Graded 'A' by CRISIL at National Level. The GRDIM has committed itself in developing skills, enhancing creativity, acquiring knowledge, applying practically to all its students with the class room teaching and the practical knowledge through on job training, innovative residential outdoor management development program, it moulds the students to understand corporate attitude, challenge and the culture.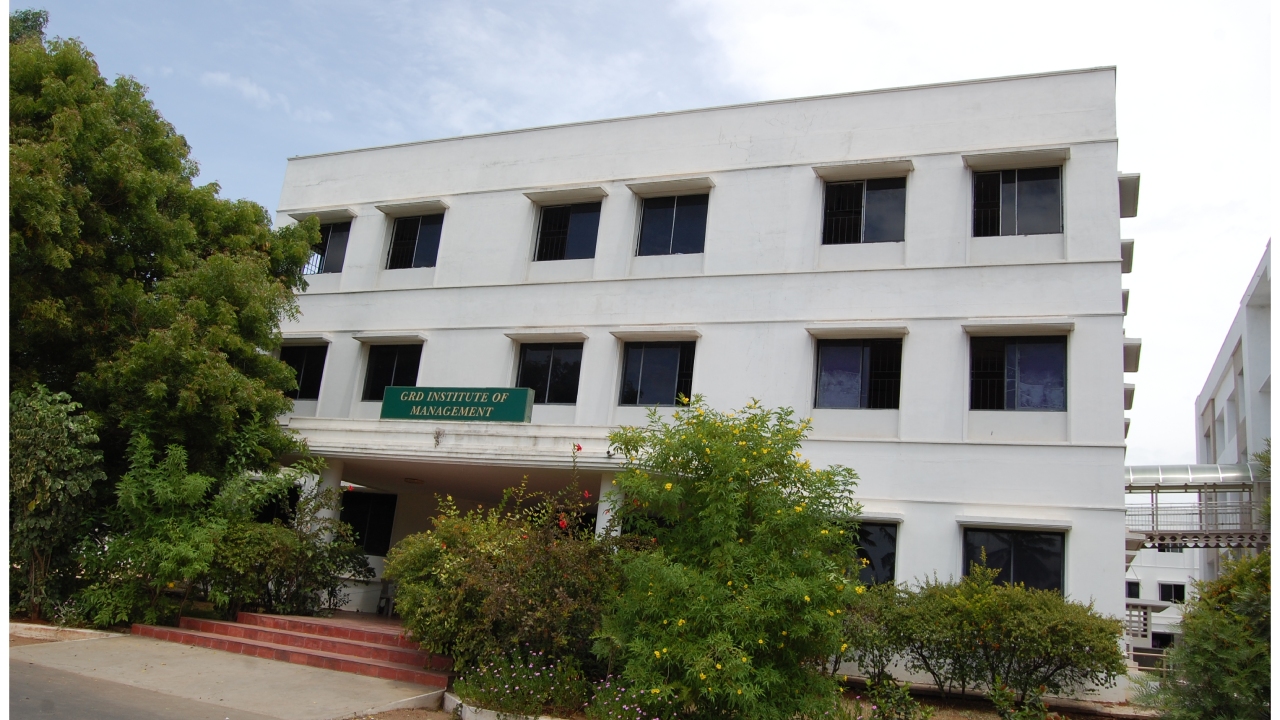 With 20 years of expertise in the field of management education, GRDIM has an experience of conducting a series of management development programs, Short Term courses, CEO Words Series, Face to Face, Webinars, Industrial visits, Outstation Seminars, Boot Camps etc. The Course as such is designed with the aim of moulding future managers and entrepreneurs, by providing them a strong theoretical base as well as practical know-how in the field of management. The institute takes great pains to ensure that its MBAs are offered quality management education by way of seminars, workshops, paper presentations, role plays, industry exposure etc.
GRD IM was awarded with 'B-SCHOOL LEADERSHIP AWARD' for Best Management Institute in India, by World Education Congress in the 'GLOBAL AWARDS' 2012.
Institution Highlights
The GRD IM MBA provides the student with the opportunity to gain the most renowned business management qualification at one of the premier institutions for Management education in Tamil Nadu. GRDIM is a conglomerate of non-stereotypical and neo-radical minds. It is constituted with flair for creativity and innovation in order to engage consistently into introspections for improvement and opening up for new challenges.
The intensive two year programme enables our students to benefit from:
Interacting with CEO's from various top corporate houses
Engaging in an exciting live consultancy projects with fellow students in local business organizations, helping them to solve their problems whilst also testing out and enhancing their own management abilities.
Participating in an innovative residential outdoor Management Development Programme to sharpen their team working skills.
Enriching their knowledge towards Management education by learning from renowned professors of foreign universities.
Researching into a business issue or problem of their own by undertaking an indepth piece of management research and producing a dissertation.
Tackle the strategic issues facing business, and learn how to handle key challenges such as the Management of change, Ethical dilemmas and Cross-cultural management.
Learning Resource
The management library has a collection of 30,000 books and subscribes to 60 journals. It also has EBSCO online, J-gate, journal facility providing customised access to information. Our library and learning resource services has to enhance studies. Our learning resource service provides library books, journals and other resources. We also provide access to electronic journals and electronic information services.
Information Technology
The Institute lays emphasis on computer skills which enhances efficiency in day to day professional work and hands-on experience with the emerging technologies for business processes and function. The students of GRDIM have full access of the knowledge base on the net. The faculty opens the gates of a perpetual flow of information that empowers the students with the ultimate weaponary of knowledge. Internet access through Wifi connectivity enables the use of laptops in the classroom. GRD IM provides laptops to all the students enroled in the campus.
Faculty Profile
| Name | Qualification |
| --- | --- |
| Dr.K.K.Ramachandran (Director/Vice Principal) | M.Com, MFT, MBA,M.Phil, PGDFT,Ph.D (Management), Ph.D. (Commerce), FCMI (UK) |
| Dr. S Kavitha | MBA, M.Phil, Ph.D |
| Dr. T Sundareswaran | MBA , Ph.D |
| Dr. S Brindha | MBA,M.Phil, Ph.D, SLET |
| Dr. K Anish | MBA, SET, Ph.D |
| Dr. T Arockia Sagayaraj | MBA, M.Phil, Ph.D |
| Dr Karthick Krishnakumar | MBA., MHRM., MS., M. Phil., Ph.D |
| Mr. J Rajesh Maharajan | MBA, SET |
| Dr. S Ilayasankar | MIBA,MBA, NET, Ph.D. |
| Dr. P Vijay | MBA,M.Phil, Ph.D |
| Dr. S Aravinth | MBA, M.Phil, Ph.D |
| Dr. M N Sasirekha | MBA, M.Phil , Ph.D |
| Mr. S Singathurai | MBA, M.Phil |
| Mr. G Shankar Ganesh | MBA, M.Phil |
| Dr. K Selva Mohana | MBA ,Ph.D |
| Dr. K Sangeetha | MBA,M.Phil , Ph.D |
| Dr. R Saranya | MBA,M.Phil ,Ph.D |
| Dr. D Subhashini | MBA, M.Phil, Ph.D |
| Dr. K Pavithra | MBA,M.Phil ,Ph.D |
| Mr. T Prakash | MBA |
| Mrs Nivetha C | MBA,M.Phil |
| Dr T Sathyapriya | Ph.D |