School of Commerce & International Business (SCIB )
The Department also offers the one-year part-time course in Advertising and Marketing Management and Human Resource Management leading to the Post Graduate Diplomas of the college. Add on courses leading to the Certificate, Diploma and Advanced Diploma programmes recognized by the University are also offered along with the UG and PG Degree courses.
The Department functions in its own building with spacious well-furnished classrooms, computer centre, auditorium, AV room and other facilities. The department has networked itself with a wide diversity of resource centres, which could provide inputs of vital importance to the Commerce and International business curriculum. These include agencies involved in Import and Export, Banking, Customs, Excise, Supply chain Management, Strategic Management, Foreign Exchange Management, Brand Management etc.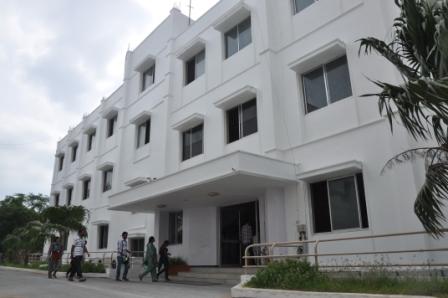 MIB Programme
The economic liberalization and privatization, opening up of markets, lowering of trade barriers and globalization of business are all emerging realities gaining momentum and having far reaching impact on the Indian economy.
In this context, to size up market options and to magnify avenues in the vast global market calls for marketing acumen, exceptional managerial skills and caliber in business decision-making. The new paradigm calls for infusion of soft skills and techno commercial capabilities in students and this has provided the rationale for the new 2 year Master of International Business (MIB) curriculum.
The curriculum follows an evolutionary pattern. The course content in the initial stages deals with the fundamentals of foreign trade and the basic concepts of major management disciplines. The subsequent course contents give enough scope for students to have a tryst with the practical and technical aspects of International Marketing, International Trade, Foreign Exchange, Logistics Management, Exports, Imports, Strategic Management, Global Financial Management, International Business Relations, Foreign Trade Legislations, Brand Management, Merchandising, Research, etc.
For details contact: [email protected]
Faculty Profile
| Name | Qualification |
| --- | --- |
| Dr.K.K.Ramachandran (Director/Vice Principal) | M.Com, MFT, MBA,M.Phil, PGDFT,Ph.D (Management), Ph.D. (Commerce), FCMI (UK) |
| Dr. S. Dhanaraj | M.Com, M.Phil , Ph.D |
| Dr S.Sitrarasu | M.Com , M.Phil, Ph.D, NET |
| Dr V L Narayanan | MCA,M.Com,M.Phil,Ph.D |
| Dr N Meeran Mydheen | M.Com , M.Phil , Ph.D |
| Dr R Gokila | M.Com, M.Phil , Ph.D |
| Dr M Santhakumar | M.Com, M.Phil, Ph.D |
| Dr N Vijaya Rani | M.Com, M.Phil, Ph.D |
| Dr Revathi Anandkumar | M.Com, M.Phil, Ph.D |
| Dr T Mylsami | M.Com , M.Phil, Ph.D |
| Dr A Kumaresan | M.Com , M.Phil, Ph.D |
| Dr R Balaji | M.Com, M.Phil ,Ph.D |
| Dr. Ravishankar C | M.Com, Ph.D |
| Mr R. Dhanasekaran | M.Com, M.Phil |
| Dr S Mohan Raj | MBA, M.Com (CA) ,Ph.D |
| Dr I Chitrakala | M.Com, M.Phil , Ph.D |
| Dr S Senthil | M.Com, M.Phil , Ph.D |
| Dr S Moorthy | M.Com, M.Phil, Ph.D |
| Mrs M Thamaraiselvi | MCA, M.Phil |
| Dr K Mohana Ranjani | M.Com , M.Phil , Ph.D |
| Mrs D Sangeetha | MCA, M.Com,M.Phil |
| Dr V Bhuvaneswari | M.Com , MBA, M.Phil , Ph.D |
| Mrs S Saranya | M.Com (CA), MBA (IS) , M.Phil |
| Dr. G Hemalatha | M.Com , M.Phil, Ph.D |
| Dr S. Sarojini | M.Com, M.Phil , Ph.D |
| Dr T Christy Chanchu | M.Sc(Economics),M.Phil , Ph.D , SET |
| Mrs P Kavitha | M.Com, M.Phil |
| Dr S Sivaraman | M.Com , M.Phil , Ph.D |
| Dr L Senthilkumar | M.Com, M.Phil, Ph.D, PGDCA, NET |
| Dr J Nancy Sebastina | M.Com, PGDCA, Ph.D |
| Mr M Manidayanand | M.Com, M.Phil |
| Dr G Parimala | MIB, M.Phil , Ph.D |
| Dr J Prasath | MIB,M.Com, M.Phil , Ph.D |
| Dr R Subashini | MBA,M.Com , Ph.D |
| Mrs E Komala Devi | M.Sc (Statistics), M.Phil |
| Dr M Jayanthi | M.Com , M.Phil , Ph.D |
| Mr R Venkatesh | M.Com, M.Phil |
| Mrs P A Shany | MIB |
| Dr D Vani Sree | M.Com, M.Phil, Ph.D |
| Mrs R Vidhya | MFT, SET |
| Dr C Pramila | M.Com (CS), M.Phil , Ph.D |
| Dr T C Brindha | MIB, M.Phil, Ph.D |
| D Kayathri Devi | M.Com, M.Phil |
| Ms S Gayathri | M.Com, NET |
| Mrs P Vanithamani | M.Com, PGDCA , M.Phil |
| Ms Sri Varsini E | MIB,M.Phil |
| Dr S Haripriya | M.Com,M.Phil, Ph.D |
| Dr Keerthi P A | M.Com,M.Phil,Ph.D,NET |
| Ms Nandhini M | M.Sc(Mathematics),M.Phil |
| Dr Chandradevi P | M.Com,M.Phil,Ph.D |
| Dr P Felcy Christinal | MCS,M.Phil,Ph.D |
| Dr.G Kavitha | M.Sc(Maths),M.Phil,Ph.D |
| Mrs Lalitha R | M.Sc,M.Phil |
| Mr D Srinivasan | M.Com,M.Phil |
| Mrs Marina Joshy C | M.Com |
| Dr S Sumithra | Ph.D |
| Dr L A Razia Fathima | Ph.D |
| Dr P Sijo | Ph.D |
| Ms A R Roshini | M. Phil |
| Dr K Raja Rajeshwari | Ph.D |
| MR V Ganesan | M. Phil |
| Mr A Sakthivel | M. Phil |
| Ms R K Sowmiya | M.A |