Communication
Under the School of Communication the 3 year B.Sc Visual Communication and 2 year MJMC courses are offered. M.Phil and Ph.D. programmes were instituted in 2004-05. The School also runs short term programmes (such as Certificate Courses in Photography and Printing (Offset); PG Diploma in Public Relations and undertakes production of promotion and educational audio, video and print materials for selected clients.
Facilities
The School has a well-equipped Media Centre with state of the art facilities such as Digital Video Cameras, Sound Recording and Non linear editing and Post production technology equipments and studios. The photography laboratory has high end professional cameras and lenses and the multi media laboratory, the best computers and top of the line software that enable work of contemporary professional standard.
The IGNOU sponsored GYAN VANI FM Radio Station operates from department and offers exposure to design and operation of the broadcast media. Advertising, Public Relations, Journalism and the contributory skill areas of Video and Audio production, Multimedia, Graphics and Web page design and editing constitute the School's areas of development interest.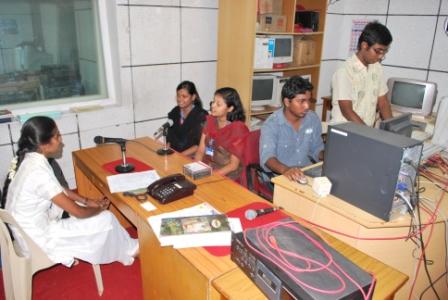 The SANKARADAS SWAMIGAL AUDITORIUM functions as a MINI CONFERENCE HALL(Non commercial) for training the Students of the BSc (VISUAL COMMUNICATION) and the MJMC Courses.
The Faculty of the Department have also produced a SHORT FILM (Non Commercial) entitled "வாழ்வே வா" for training the Students, both the BSc(Visual Communication) and the MJMC Courses.
Faculty Profile
| Name | Qualification |
| --- | --- |
| Mr C Sadishkumar | M.Sc,MJMC,M.Phil |
| Mr P Arul Kumar | M.Sc |
| Dr A Malarvizhi | MA,MJMC ,M.Phil ,Ph.D |
| Dr S Sasikala | MA,M,Phil , Ph.D, SET |
| Mrs N Vishnupriya | MA,M.Phil |
| Mrs P Parameswari | M.Sc,M.Phil |
| Mr B.Niranjan | MJMC |
| Ms. Alan Maria Jose | MJMC,M.Phil,NET |
| Dr N R Sujith Soori | Ph.D |
| Dr M Saravanan | Ph.D |
| Mr M Arunkumaran | MCA |
| Mrs A Asha Lydia | MA(MC): M.A.MassCommunication |